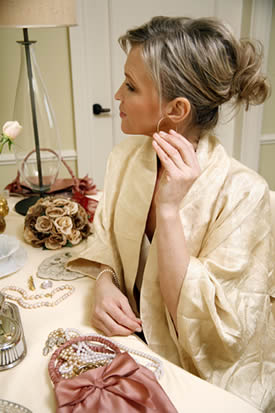 Always store your jewelry in a clean, dry place. Keep your jewelry in a fabric-lined jewelry cases or in a box with compartments and dividers to prevent pieces from scratching.
Remove all jewelry before showering, cleaning, applying lotions, and sunscreen. These products cause a film to form on your jewelry, making it appear dull and dingy.
After wearing your fine jewelry, wipe it down with a clean, soft, slightly damp cloth. The will enhance the jewelry's luster and will ensure that it is clean before storage.
Remove all jewelry before entering salt water, a hot tub or a swimming pool. Chlorine can damage and discolor metals such as gold platinum and sterling silver and can slowly erode the finish and polish of gemstones.
When using any type of jewelry cleaner, be sure to rinse thoroughly with warm water.
Following these simple tips will keep your jewelry looking beautiful for years to come.